Peter and the starcatcher auditions
Peter and the Starcatcher is a fantastic, hilarious and fun play with music that has something for all ages. Creating a new origin story for Peter Pan, Peter and the Starcatcher is based on a young reader book series of the same name but presented in the tradition of British storytelling theatre. It involves great adventure on the sea, silly fights and a sweet and innocent love story. Don't miss this very special show! Tickets cost only $10 for adults and $8 for students and seniors. Online ticket sales will begin November 19.
Powered by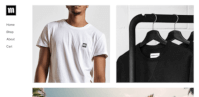 Create your own unique website with customizable templates.